Meet the CS Professors!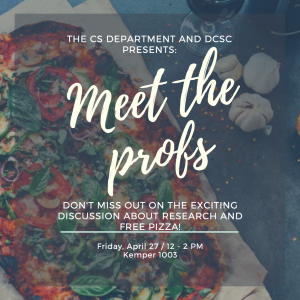 The Computer Science Department and the CS club welcome you to meeting #3 of our MEET THE CS PROFESSORS series this Friday, April 27th from noon to 2 pm in Kemper Hall, room 1003. Our professors would love to chat with you. This week's discussion theme will be research! Come with all your burning questions and an appetite because we'll be serving pizza. It's first come, first serve, so come early if you're hungry.  
This event is open to ALL interested undergraduates. Whether you're a CS student, or a student interested in joining CS, we would love to chat with you. Hope to see you there!
The next MEET THE CS PROFESSORS will be Friday, May 25 (in Kemper Hall, 1131).
Location
1003 Kemper Hall