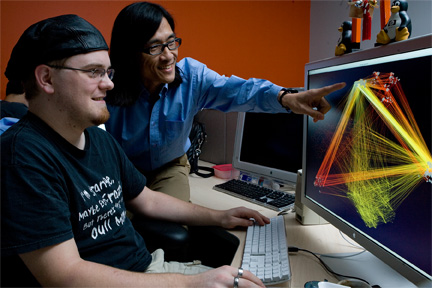 ---
For graduate program information or admissions questions, contact: csgradadvising@ucdavis.edu
---
Graduate Admission Requirements
Our primary goal in selecting students for our graduate program is to find individuals who have demonstrated academic achievement (median undergraduate GPA of Fall 2018 admits is 3.67), a solid academic background in computer science (completion of an undergraduate program comparable to the undergraduate program at UC Davis) and the potential to tackle the complex thinking and writing that graduate study requires. We evaluate this by looking at specific coursework in computer science. We also use your statement of purpose, letters of recommendation, and GRE scores.
A table of statistics on Revised GRE scores for Fall 2018 admits is below:
| | | | | | | |
| --- | --- | --- | --- | --- | --- | --- |
| Test | Score Average | Score StDev | Score Median | % Average | % StDev | % Median |
| Verbal | 155 | 6 | 154 | 65% | 21 | 65% |
| Quantitative | 166 | 4 | 168 | 90% | 10 | 94% |
| Analytical | 4 | 1 | 4 | 45% | 25 | 42% |
Admission to the Graduate Group in Computer Science is highly competitive. On average, we receive over 2,000 applications for admission and generally admit the top 10%.
The GGCS admissions committee is primarily looking for individuals who have demonstrated outstanding academic achievement in computer science. However, we know that a student with an undergraduate major in a related field (electrical engineering, mathematics, physics, etc.) may have the ability to do well in our program. In addition, in the past truly exceptional students with a background in a field not related to computer science have been admitted to our program. The latter students have demonstrated their academic potential through their undergraduate experience, GRE scores, and letters of recommendation.
The likelihood of admission to the program in any year depends on the applicant pool. In recent years, the applicant pool has become increasingly competitive. Very few students without a solid academic background in computer science are currently able to put forth a competitive application. At the very minimum, students without a degree in computer science must complete the courses listed in the admissions requirements for the MS and PhD degrees, though completion of this list of courses is rarely sufficient to gain admission.
---
Instructions for Applying
All applications must be submitted online and all transcripts must be received by January 15th. Applications received after January 15th will not be considered and the application fee will not be refunded. We do not mail paper applications. We also do not accept paper applications.
The Office of Graduate Studies requires that each applicant has the equivalent of a 3.0 minimum GPA, on the 4.0 scale used within the United States. Applications that do not meet this minimum will not be considered for admission.
All applications must include the following materials in order to be considered complete. An application will not be reviewed until it is complete.
Application
Completed application form including statement of purpose. The online application will become available to applicants every September for admission for the following academic year; the link to the application, when available, is posted on the Office of Graduate Studies' application page. All applications must be submitted online and all transcripts received by January 15th. Applications received after January 15th are not considered.
Application Fee
The application fee is required for all applicants. For more information about the application fee, see the Office of Graduate Studies' FAQ on the application fee.
We do not process any application materials until the application fee has been paid. The fee may be paid by credit card or e-check. The fee must be paid before the application will be considered as complete, and the fee must be paid for each application submitted.
Areas of Interest
In your online application, please explicitly state your area(s) of interest, as we will use this information to distribute your application to faculty in these areas for review. Be specific. Avoid entries such as "see hardcopy" or "Computer Science." Suggested (non-exclusive) areas may include:
Artificial Intelligence
Algorithms
Architecture
Bioinformatics
Compilers
Computational Biology
Computational Geometry
Cryptography
Data Analysis
Data Management
Data Mining
Databases
Distributed Systems
E-commerce
Graphics
Information Systems
Knowledge Representation
Machine Learning
Networks
Operating Systems
P2P
Parallel Computing
Programming Languages
Scientific Computing
Scientific Data Management
Security
Software Engineering
Virtual Reality
Visualization
Wireless Networks
You may enter one or more areas. You may also enter more specific areas than what is listed above.
GRE Score
Electronic submission of your GRE score report. Since GRE scores must be included with your application, it will be necessary to take the exam prior to late November. If you cannot take the exam in a timely manner, we will be unable to process your application. Applicants are strongly encouraged to report GRE and TOEFL scores electronically directly to the institution.
Letters of Recommendation
Three letters of recommendation are required. The referees must submit all letters of recommendation electronically. The online application will automatically notify the referee and provide instructions on how to submit their letter. Please do not send hard copies of letters. Only letters submitted online will be accepted. For more details, see the Office of Graduate Studies' international applicants page.
If your recommender is having an issue uploading their letter of recommendation, please contact support@hobsons.com.
Statement of Purpose
The statement of purpose plays a critical role in the review of an application. It should be well written and free from technical errors and second language interference. It should define your background, and the interests and experiences that qualify you for graduate study. It must explicitly state your areas of interest for graduate study, and detail how the program at UC Davis will help you attain your educational and research goals. It would be helpful to describe how your plans fit into the ongoing research in computer science at UC Davis.
TOEFL or IELTS Score (if required)
Those who plan to, or who will complete, a bachelor's degree from an English-speaking institution do not need to submit a TOEFL or IELTS score. For all other students, a TOEFL or IELTS score is required. For more details, see the Office of Graduate Studies' international applicants page.
Transcripts
UC Davis requires academic records from each college-level institution you have attended. You will be instructed to upload scanned copies of your transcripts after you have submitted your online application. If your transcripts are not in English, Graduate Studies requires official translations of all transcripts. Do not send high school transcripts or certificates of training courses. For more details, see the Office of Graduate Studies' transcript page.
---
Frequently Asked Questions
See the prospective student FAQs page for more information.